Roucou oil is extracted from the seeds of Roucou tree also known as Annatto. The plant is found in South America where the red colouring from its fruit is still used as an insect repellent and sunprotection product. Roucou is also used in the production of cosmetics designed for hair and scalp care.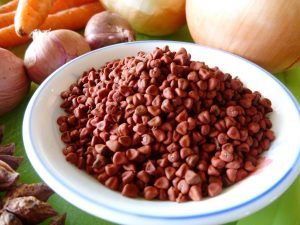 The extract or roucou oil is commonly added to shampoos, conditioners and masks. The oil's popularity and superb performance is connected with fruit ingredients. They contain amino acids, salicylic acid, magnesium and calcium. What effects does conditioning with roucou oil offer to hair and scalp? The product fights free radicals therefore prevents premature hair greying, excessive hair loss and weakening of hair bulbs. It protects hair and scalp from UV radiation and harmful external factors. During regular treatments, it restores damaged internal hair structure and makes cells of scalp rebuild faster. It is soothing and antibacterial as well as prevents irritation, reduces dandruff and limits sebum secretion by sebaceous glands. Also, the oil makes combing easier, speeds up blow-drying and makes hair easier to style. It reduces frizzy and electrified hair. Thanks to light consistency, the product absorbs into the hair and scalp quickly.
The application of roucou oil is very simple. The cosmetic is recommended for all hair types, regardless of its porosity, damage and scalp type. How to apply roucou oil? Apply a few drops of oil to clean and damp hair. Then, rub it gently in the strands starting at the root; remember about the ends. To enhance the performance of the oil, put on a towel and wait more or less one hour. Then, wash your hair with a SLS-free shampoo. Let it dry off freely and then apply a non-rinse conditioner. Applying the oil to dry hair is similar. But remember to wash your head thoroughly and blow-dry hair with a cool airflow. It will take more time but you won't damage your strands and hair follicles will remain closed.